Delray Beach Bathtub Refinishing
Is your Delray Beach Bathtub looking old? Stains and spots all over? Mold and mildew? The cost to replace a bathtub in Delray Beach is too high to even consider it, right? Platinum Refinishing in Delray Beach is the answer to completely refinish your bathtub and make it look like new! Platinum Refinishing in Delray Beach refinishes in Hours! From old to new in no time!
Delray Beach owners have approved our refinishing system that works beautifully on: Porcelain bathtubs, sinks, fiberglass shower enclosures, bathroom floors, pedestal sinks, ceramic tile, formica countertops, claw foot tubs, plastic tubs, kitchen cabinets, cultured marble counter tops, imitation marble, metal surfaces, plastic surfaces, vanities, shower-pans and various fiberglass and acrylic surfaces. The possibilities are endless and now any Delray Beach resident can enjoy this cost-effective process of making your bathtub looking like new!
Our refinishing technique employs technology and Craftsmanship.
The technology is in the coating and the application. Our coating bonds at the molecular level (covalent bond) it does not just sit on top. It is not a paint.
Our technicians are craftsmen. Your kitchens and bathrooms are expertly prepared with great care. When we finish the job you won't believe your eyes. It looks brand new!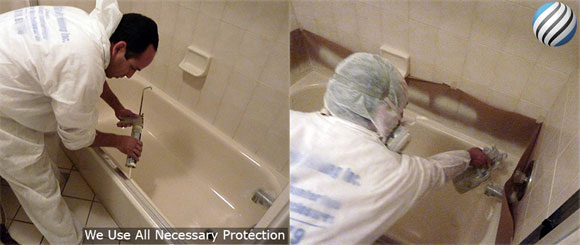 Delray Beach Bathtub Refinishing – Don't Replace, Refinish!
Bathtub refinishing is a cost effective bathroom makeover alternative to replacing a bathtub that is worn out, damaged, hard to clean, or simply a dated color. Platinum Refinishing will repair chips or cracks and restore the surface to look and feel like new. You'll save thousands of dollars and avoid days or even weeks of demolition mess and costly replacement. Estimated Cost of Replacement of bathtub is estimated to be about $3500 by The National Kitchen and Bath Association, but Delray Beach residents have the opportunity to have them refinished at a fraction of that cost!
We can refinish:
Delray Beach Bathtubs
Delray Beach Sinks
Delray Beach Shower Enclosures
Delray Beach Bathroom Floors

We enjoy working with all surface types. Here are a few we do regularly:
Acrylic
Fiberglass
Cultured Marble
Plastic
Formica
Ceramic
Porcelain
Use our contact form on this page right now to request a 100% FREE ESTIMATE! We will come to your home and give you a fair and accurate estimate on the spot. No commitment!
---
Delray Beach Bathtub and Tile Refinishing
|
Delray Beach Bathtub Refinishing
|
Delray Beach Bathtub Reglazing
|
Delray Beach Cabinets Refinishing